"Despite its small size, the Powermax30® AIR delivers big performance. The smallest, lightest handheld plasma cutting system in its class, it includes its own built-in air compressor, so you can use the Powermax30 AIR anywhere there's single-phase power. Just plug it in, attach the work clamp and you're ready to cut.
This model includes the Powermax30 AIR® Power Supply (120-240v), the AIR T30 15ft hand held torch, 240 V/20 A plug with adapters for 120 V/15 A and 240 V/20 A circuits, (1) Carrying Strap and a standard work lead. Hypertherm's "CSA" models are for use in the Americas and Asia, except China.
Material Type: Mild steel, stainless steel, aluminum"
Only logged in customers who have purchased this product may leave a review.
Capacity
Thickness
Cut speed
Recommended
8 mm (5/16")
500 mm/min (20 ipm)
10 mm (3/8")
250 mm/min (10 ipm)
Severance
16 mm (5/8")
125 mm/min (5 ipm)
Cutting with 120 V input power
The maximum recommended output of 20 A, the cut capacities are:
3 mm (10 gauge) at 762 mm/min (30 ipm)
6 mm (1/4") at 355 mm/min (14 ipm)
10 mm (3/8") at 125 mm/min (5 ipm)
Input voltages
120-240 V, 1-PH, 50/60 Hz
Input current @ 2.5 kW
120-240 V, 1-PH, 29-15 A
Output current
15-30 A
Rated output voltage
83 VDC
Duty cycle @ 40°C (104°F)
35%, 240 V
20%, 120 V
Open circuit voltage (OCV)
256 VDC
Dimensions with handles
420 mm (16.5") D; 195 mm (7.7") W; 333 mm (13.1") H
Weight w/ 4,5 m (15') torch
13.5 kg (29.8 lbs)
Input power cable length
3 m (10')
Power supply type
Inverter - IGBT
Engine drive requirement
5.5 kW for full 30 A output
Certifications
CSA-certified for use in the Americas and Asia, except China CE, C-Tick, CU/GOST, Ukr, and Serbian — for use in Europe, Australia, Belarus, Kazakhstan, Russia, Serbia, Ukraine, and other countries where accepted.
Warranty
Power supplies have a 3-year warranty and torches a 1-year warranty.
AIR T30 torch
Designed to withstand impact and heat
Tapered retaining cap and deflector for great arc visibility
Ergonomic design with 75° torch head
AIR T30 consumables
* Electrodes and nozzles are sold in packs of five, as well as combination packs of 2 electrodes and 2 nozzles (part number 428350).
For a full torch and consumable breakdown of the handheld plasma systems please download the full catalog.
Consumable kits
Essential consumable kits keep your Powermax up and running with an array of genuine Hypertherm cutting consumables.
See chart below for kit contents and ordering information.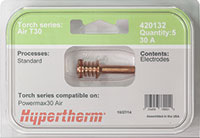 Look for the green package.