AIR T30 torch
Designed to withstand impact and heat
Tapered retaining cap and deflector for great arc visibility
Ergonomic design with 75° torch head
AIR T30 consumables
* Electrodes and nozzles are sold in packs of five, as well as combination packs of 2 electrodes and 2 nozzles (part number 428350).
For a full torch and consumable breakdown of the handheld plasma systems please download the full catalog.
Consumable kits
Essential consumable kits keep your Powermax up and running with an array of genuine Hypertherm cutting consumables.
See chart below for kit contents and ordering information.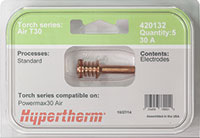 Look for the green package.